My Very First Black Cock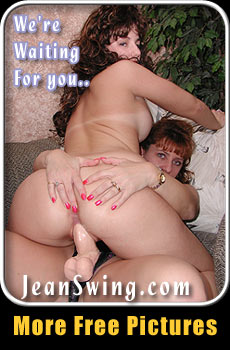 My Very First Black Man. Hundreds of Pics and Video (VHS) for sale at JeanSwing.com. Member "OneNut" gets a piece of Jean. Who's next?
I have to admit, 2 or 3 years ago I never even thought about being with a black man. I noticed Wayne had been watching a couple porno's and was really getting excited watching white girls getting hard black cock slammed to them. I was kinda turned off by the idea at first. But, the more I watched it and saw how much Wayne was getting worked up by it the more I wanted to do it.
One of my members is a real sweetheart and goes by the name "OneNut" (he has both nuts as you can see...heheh). We have been talking about getting together for about almost a year. Finally we had the opportunity to meet in Atlanta at one of the web girls party I attended.
We got back to my hotel room and I was all nervous thinking of that huge black cock splitting my little white pussy. We started out with me lying on the bed face down as Onenut buried his tongue deep inside me. Then he slowly straddled me from behind rubbing his hard black tool against my pink pussy lips. I was in sheer ecstacy from the anticipation of his cock sliding in me. He worked it up and down slowly then pressed it in me. As the head went in it hurt but felt good at the same time. I know I was in for one heck of a fucking.
He thrusted his cock in me until it was hitting the bottom of my pussy everytime. I can't remember how many times I came. Onenut had been saving his cum up for me for two weeks because he knew how much I love cum. About 4 or 5 minutes later of pure pleasure for both of us I felt his cock start pulsing and I could feel his hot liquid shooting inside me. My pussy was filled to the rim. As he withdrew his cock cum poured from my pussy. I have never had that much cum shot inside me by anyone. I captured all this on tape and took many pictures of the event. We went two more rounds after that... why don't you come on in and take a look at the rest of the pics? <smile>
Hugs, Jean ( JeanSwing.com )
Here are a few previews. There are over 100 high quality pictures in this series inside.